✻
Glenfalloch is one of Dunedin's Top Restaurants consistently #1 on TripAdvisor; superb cuisine set in a beautiful historic woodland garden on Dunedin's stunning Otago Peninsula

DINING AT GLENFALLOCH
Whether you want to escape for a quiet coffee or lunch on the deck, or treat yourself to a stunning "Trust the Chef" surprise dinner menu come and enjoy our superb cuisine and find out why our guests rave about us.
"Best Food in Dunedin. Glenfalloch has a fabulous menu and uses tasty fresh organic produce. We loved this philosophy. The food was delicious full of delicate flavours. A stunning venue, 5 star Cuisine. Highly recommend" TripAdvisor Review
Celebrations, parties and weddings our specialty.
GARDEN OPEN daily 9AM- DUSK
Restaurant Open: 9.30am-3.30pm Weds-Sun. From 5.30pm Thu/Fri/Sat
Bookings Highly Recommended
BOOK NOW Ph 03 476 1006 or Online
UPCOMING EVENTS
Glenfalloch Night Garden 19-21 September 2019
For More Information, Click Here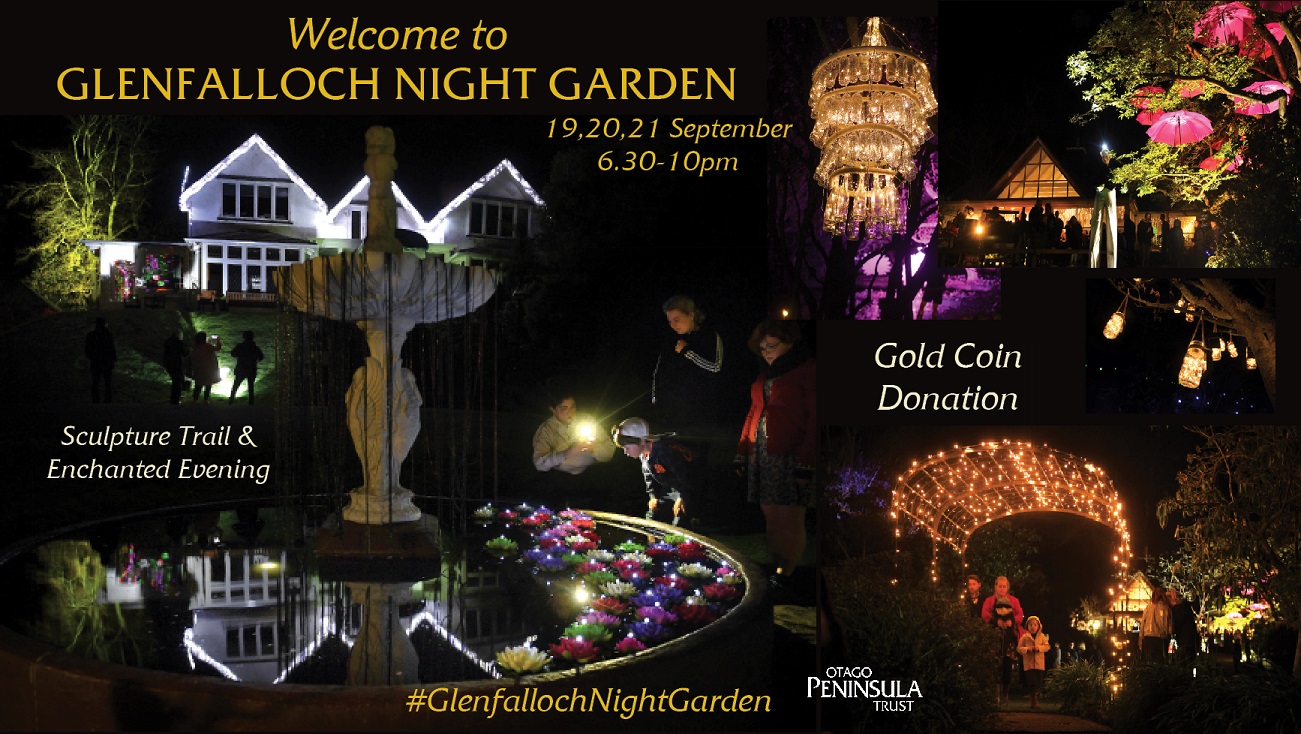 Spend an enchanted evening exploring the illuminated wonders of the Glenfalloch Night Garden where spring blossoms and sparkle combine for a magical experience.
Glenfalloch will glow with golden light as installations and sculptures are showcased in our splendid garden setting.
Come and explore the beautiful spring displays and discover local artist's creations nestled within the woodland's landscape. A delightful event for all ages.
Gold coin donation. Restaurant, casual dining and foodtrucks. Live Entertainment – choirs and music to enhance the experience
Bring cash for purchases – Entry Donation | Food Trucks.
Restaurant is fully booked
Transport – It'll be busy, so please plan ahead!
Free shuttles from Bunnings Carpark return from 6.30 -10pm
Free shuttles from Macandrew Bay return from 6.30 – 10pm
Arrive in Ferry style with Port to Port Cruises from Otago Yacht Club to Glenfalloch return. Depart Otago Yacht Club 6;30pm, 7pm, 7;30pm | Depart Glenfalloch 9pm, 9:30pm and 10pm. $25 per adult and $15 per child return. Bookings https://www.porttoport.co.nz/book-online
Otago Peninsula Trust is pleased to sponsor this very special community event. Thank you Dunedin City Council, Glenfalloch, GoBus and Otago Peninsula Community Board, Bendigo Valley Sports and Charity Foundation, The Royal Albatross Centre and Blue Penguins Pukekura for your support!
6.30pm – 10.00pm Thursday 19, Friday 20, Saturday 21 September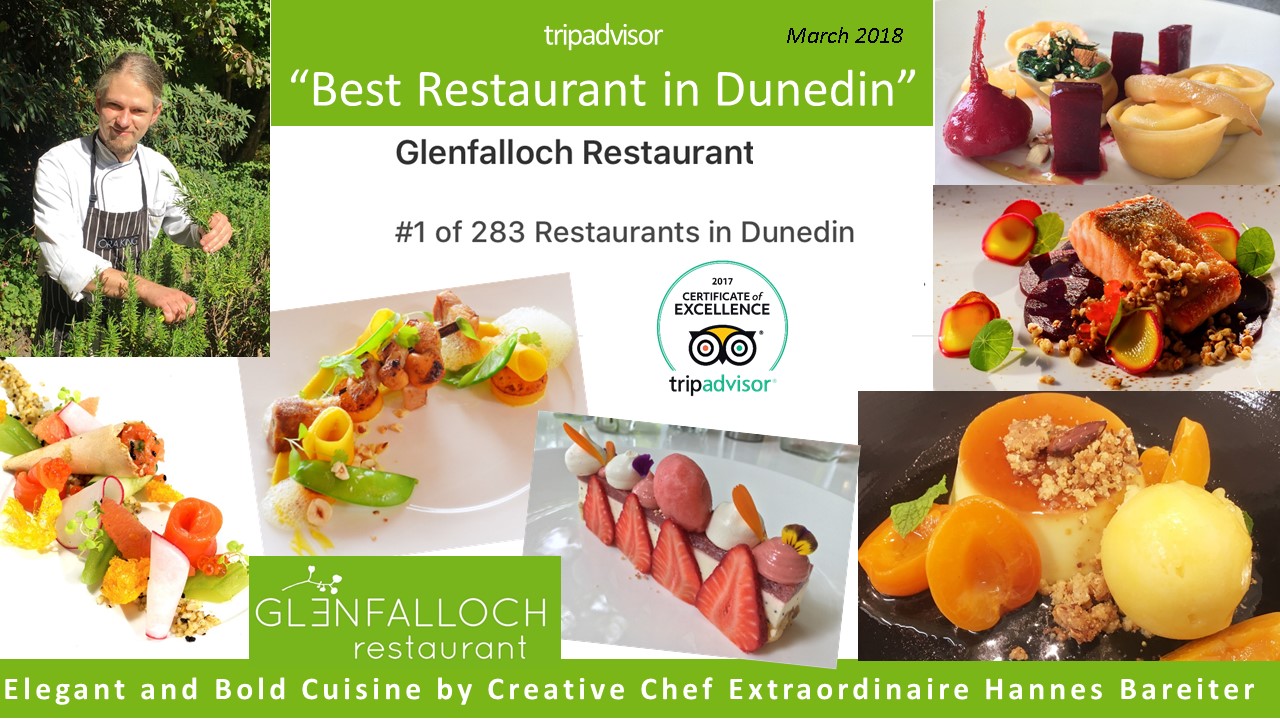 Experience Glenfalloch Restaurant as you dine in one of New Zealand's most gorgeous gardens.
Enjoy superb cuisine created with fresh local produce from artisan suppliers and imaginatively crafted by award-winning chef Hannes Bareiter. Glenfalloch's menus showcase the best of Otago's seasonal ingredients and local delicacies – Try the famous "Trust the Chef" menu for an exciting degustation experience of delicious tastes and flavours.
Explore Glenfalloch Garden, 30 acres of historic garden begun in 1871 and filled with splendid plantings. Stroll amongst the beautiful seasonal displays and enjoy the lush surrounds – native ferns, exotic imports and indigenous New Zealand trees.
Glenfalloch Garden is owned by Otago Peninsula Trust NZ's first private charitable conservation trust- your support helps keep this special place open for all to enjoy.