We are back, under Level 2 Guidelines!
Open Wednesday to  Sunday 9.30am – 4pm
On Friday's we will be open later
We'll be open for your fix of Common Ground Espresso Coffee and freshly baked treats from our kitchen.
This is super exciting, so be sure to keep an eye out for updates on our socials!!

Future reservations can still be made on our
online

booking platform… HERE
Glenfalloch Cafe & Restaurant is set in a beautiful historic woodland garden on Dunedin's stunning Otago Peninsula
Serving locally roasted coffee, delicious breakfasts, brunch or lunch – Open Wednesday to Sunday Experience one of New Zealand's most gorgeous gardens, listen to the beautiful birdsong….. Explore Glenfalloch Garden, 30 acres of historic garden begun in 1871. Stroll amongst the beautiful seasonal displays and enjoy the lush surrounds – native ferns, exotic imports and indigenous New Zealand trees. Glenfalloch Garden is owned by Otago Peninsula Trust NZ's first private charitable conservation trust- your support helps keep this special place open for all to enjoy.
Glenfalloch Garden is open everyday from 8am – until dusk
Glenfalloch Garden Cafe & Restaurant Open
 Wednesday to Sunday 9.30am -4pm & on Friday's we will be open later.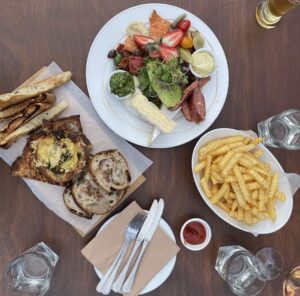 On Occasion Glenfalloch's Garden, along with the Café and Restaurant will be closed for a private functions –  click the calendar above for restaurant closures and event dates. Private functions and wedding bookings by arrangement Contact us for your celebration in our beautiful surroundings. Glenfalloch is famous as Dunedin's premiere function venue restaurants@glenfalloch.org.nz 
NZ's first private charitable conservation trust