✻
Glenfalloch is one of Dunedin's Top Restaurants consistently #1 on TripAdvisor; superb cuisine set in a beautiful historic woodland garden on Dunedin's stunning Otago Peninsula

DINING AT GLENFALLOCH
Whether you want to escape for a quiet coffee or lunch on the deck, or treat yourself to a stunning "Trust the Chef" surprise dinner menu come and enjoy our superb cuisine and find out why our guests rave about us.
"Best Food in Dunedin. Glenfalloch has a fabulous menu and uses tasty fresh organic produce. We loved this philosophy. The food was delicious full of delicate flavours. A stunning venue, 5 star Cuisine. Highly recommend" TripAdvisor Review
Celebrations, parties and weddings our specialty.
GARDEN OPEN daily 9AM- DUSK
Restaurant Open: 9.30am-3.30pm Weds-Sun. From 5.30pm Thu/Fri/Sat
Bookings Highly Recommended
BOOK NOW Ph 03 476 1006 or Online
UPCOMING EVENTS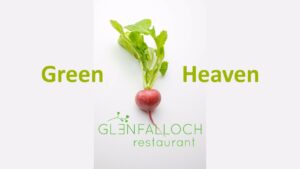 21st June 2019 FULLY BOOKED – Join us on a journey through the flavours and textures of a plant based menu created by Chef Hannes Bareiter and his Team.
The 7 Course Meal will highlight seasonal and locally sourced produce which have been given a treatment of classical and innovative cooking techniques to surprise and impress the Herbivores palate. The Menu will be revealed on the day. Vegan Wines will also be available to match your experience. Adventurous Carnivores are most welcome.
Arrive from 6.30pm |Dinner Start 7pm | $79 p.p. (Meal only)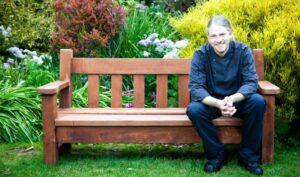 Dine Dunedin Special -Trust the Chef XXL
Come and try out our popular surprise Dinner.
Seasonal and locally sourced produce which is carefully prepared by chef Hannes Bareiter and his Team. A variation of lovingly plated savoury dishes finished off with a heavenly sweet treat.
During the Dine Dunedin event weeks we offer our guests to take the chance and upgrade to an xtra large multi course surprise meal. So please come hungry… Matching Wines to complete your evening will be available.
Available on 22nd,27th, 28th, 29th, June 2019 and 4th, 6th July 2019 from 5.30pm till late | 3 Course for $52 ​​​​5 Course for $65 ​​​​XXL for $79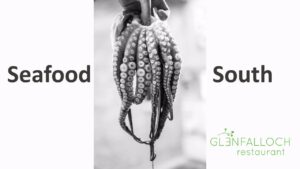 5 July 2019 – Explore Glenfalloch's 7 Course Seafood Degustation.
Chef Hannes Bareiter and his Team are delighted to present the tastiest produce out of the southern oceans. Dive into the wonderful world of the freshest Kai Moana combined with a swell of international and seasonal condiments. Wines to match your experience will be available on the night.
Bookings 034761006 | restaurants@glenfalloch.org.nz or online
6.30 for 7.00pm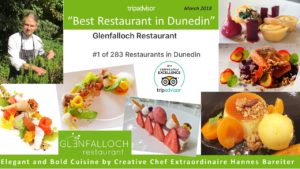 Experience Glenfalloch Restaurant as you dine in one of New Zealand's most gorgeous gardens.
Enjoy superb cuisine created with fresh local produce from artisan suppliers and imaginatively crafted by award-winning chef Hannes Bareiter. Glenfalloch's menus showcase the best of Otago's seasonal ingredients and local delicacies – Try the famous "Trust the Chef" menu for an exciting degustation experience of delicious tastes and flavours.
Explore Glenfalloch Garden, 30 acres of historic garden begun in 1871 and filled with splendid plantings. Stroll amongst the beautiful seasonal displays and enjoy the lush surrounds – native ferns, exotic imports and indigenous New Zealand trees.
Glenfalloch Garden is owned by Otago Peninsula Trust NZ's first private charitable conservation trust- your support helps keep this special place open for all to enjoy.
Restaurant Open Wednesday – Sunday | Lunch and Coffees 9.30am-3.30pm
Thursday/ Friday/Saturday | Dinner from 5.30pm Locals Night Thursday, free BYO of one wine bottle per couple.