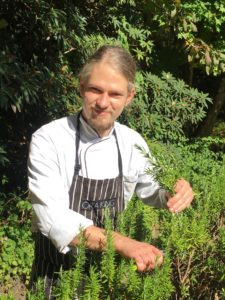 Meet Hannes Bareiter, Glenfalloch Chef, who with his partner Melanie Hartmann, is in partnership at Glenfalloch Restaurant with Otago Peninsula Trust
• What's your background and interests?
Born and trained in Germany, grown up near Frankfurt and spend my years of study between Frankfurt, Cologne and Munich. Food and everything around it, from seed to plate. And Beer, brewing and drinking.
• How did you come to live in Dunedin?
After 6 years of Isolation living in the Queen Charlotte Sound, we traveled up and down the coast looking to get back to real life, until we discovered the Otago Peninsula, close to town but still a little isolated with Million dollar views and wildlife in front of the doorstep.
• How did you get involved with Glenfalloch Restaurant?
After our move to Dunedin Melanie starred to work for the trust as the restaurant Manager in Glenfalloch, thats how it all started.
• Your food is amazing, it's been described as a taste explosion and is so visually beautiful – How would you describe your style of cuisine?
Fusion Food, experimental but with a Solid Base
• What inspires you about local Dunedin or Otago Food?
Fresh amazing Seafood / World class Stonefruit / organic vegetables and Small scale Producers that put their Heart and Soul into the growing of mushrooms, micro herbs, ginger, lemongrass and even pineapple right here in Dunedin
• Do you have a signature or favourite dish?
No, I could´t decide on one Dish, I do have a few dishes that have their come back every now and then, depending on seasonality we change certain elements on the dish. I like surprising combinations, that make your taste buds go "wow I never thought…"
• This year you've started a "Trust the Chef" menu which is getting amazing feedback. Can you tell me a bit about this concept?
Working with only fresh seafood, local and seasonal produce is not always easy, as every day the availability and quality can change. With the Trust the Chef menu, the Kitchen team can be creative with whatever comes into the kitchen door on that day. It might be Octopus, Kingfish, Venison Loin, Lamb Rack or Pork Cheek, I believe we can make you like foods that you believe you don´t…even brussell sprouts can be delicious…so just trust the chef
• Glenfalloch is famous for celebrations – what sort of parties do people have with you?
Weddings, Birthdays, all sorts of anniversaries, engagement, xmas functions,
• What days is Glenfalloch Restaurant open?
Daily 9.30am-3.30pm for coffees and lunches, Thu/Fri for evening dining from 5.30pm
• Glenfalloch has rocketed up Tripadvisor into the top 10 of restaurants in Dunedin – why do you think that is?
I guess because of the commitment, passion and expertise our team delivers to our customers.
• You've recently acquired a large barbeque and smoker, what do you use it for?
That´s right, we imported a 600kg Offset BBQ from Texas. It gets fuelled with Manuka or Fruit wood logs, thats what gives the amazing authentic smoked bbq flavour, . We have tried lots of things from Clams and Crayfish, a whole lamb, the usual pork belly and ribs, venison, beef over to Potatoes and Pumpkin.
• What's the best thing about Glenfalloch for you?
The Herb garden, having the ability to choose between over 50 herbs within 10 meters from your kitchen is heaven for a chef.
• Glenfalloch has always been popular for weddings, why do you think that is?
The location, the building, the gardens, the service we provide and of course the food….
• Do you have a favourite place on the peninsula and why?
Walking the Sandymount Track, Lovers leap and the Chasm. Its a great, easy walking track and the views are just amazing. Also the drive up there is great …
• What's your favourite project?
Training young Chefs and watching them grow.
• What are you most proud of achieving?
Masters degree in Culinary arts and kitchen management as I never been good in school, just can´t sit still.
• What do you love most about the work the Trust does?
Protecting the Wild life, happy to know that our kids and hopefully their kids will have the chance to see the royal albatross fly above their heads.
• Whats a song you like?
• Fat Freddy´s Drop – The Nod …. The party really is in the kitchen. First New Zealand band I listened to
• What are the plans for the future?
Adding Cooking classes and maybe BBQ classes into our repertoire