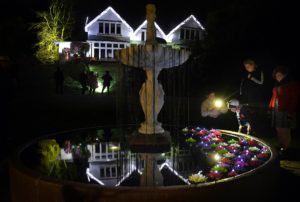 Glenfalloch Night Garden
19-21 September 2019.

6

.30pm-10pm

Spend an enchanted evening exploring the illuminated wonders of the Glenfalloch Night Garden. Spring blossoms and sparkle combine for a magical experience!

Sneak peek…Glenfalloch Night Garden on Youtube

Come and explore the gorgeous spring displays. Discover local artist's creations nestled within the woodland's landscape. A delightful event for all ages. Live Entertainment – choirs and music enhance the magical experience.
Celebrate Spring and stroll amongst the blooming beauty of Glenfalloch
Things to Know
Parking – limited parking at Glenfalloch carpark. Free shuttles available from Macandrew Bay Boat Club/Playground to Glenfalloch return.
Bring coins. Gold coin donation, other purchases available.
Make sure you book if you want to dine before dusk in Glenfalloch Restaurant – Dunedin's #1 Restaurant. Famous Trust the Chef menu. 03 476 1006 restaurants@glenfalloch.org.nz
Bring cash for purchases. Menu BBQ – Pulled Pork Sliders $8, Fries $5, hot chocolate/cona coffee $3 and mulled wine $6.
Bring your keep cups!
Most sculptures and art works are for sale.
Otago Peninsula Trust is pleased to sponsor this very special community event. Thank you Dunedin City Council and Otago Peninsula Community Board for your sponsorship support!
Our Vision
Glenfalloch Night Garden is the premiere Otago Spring celebration, creating a magical experience for Dunedin people and their visitors whilst launching sparks of creativity to inspire artistic endeavours.
Mission
Glenfalloch Night Garden contributes to the fulfillment of the Otago Peninsula Trust's mission "To Preserve and Enhance Otago Peninsula" by:
– creating an accessible and engaging event for Dunedin people to enjoy an Otago Peninsula attraction
– increasing awareness of a community asset, Glenfalloch Garden, held in trust for Dunedin
– encouraging healthy exploration and outdoor activities for all ages
– inspiring creativity for artists and an opportunity to sell their works
– establishing an event to encourage off-season tourism growth and economic development
Event
Glenfalloch Night Garden is an annual event, held in late September over three nights. Sculptures and installations are placed throughout the garden with beautiful light displays and musical accompaniment.
Glenfalloch Night Garden is a high quality exciting and inspiring event which attracts growing numbers of visitors through targeted promotion and partnerships.
Contact:
Would you like to display a sculpture or installation in our night garden? Contact glenda@albatross.org.nz to have a chat. 03 4761775 or fill in the
Artist Submission form for Glenfalloch Night Garden
Glenfalloch Night Garden 2018 Information
Photos from previous night gardens: