GLENFALLOCH GARDEN INVADED BY GIGANTIC WILDLIFE
---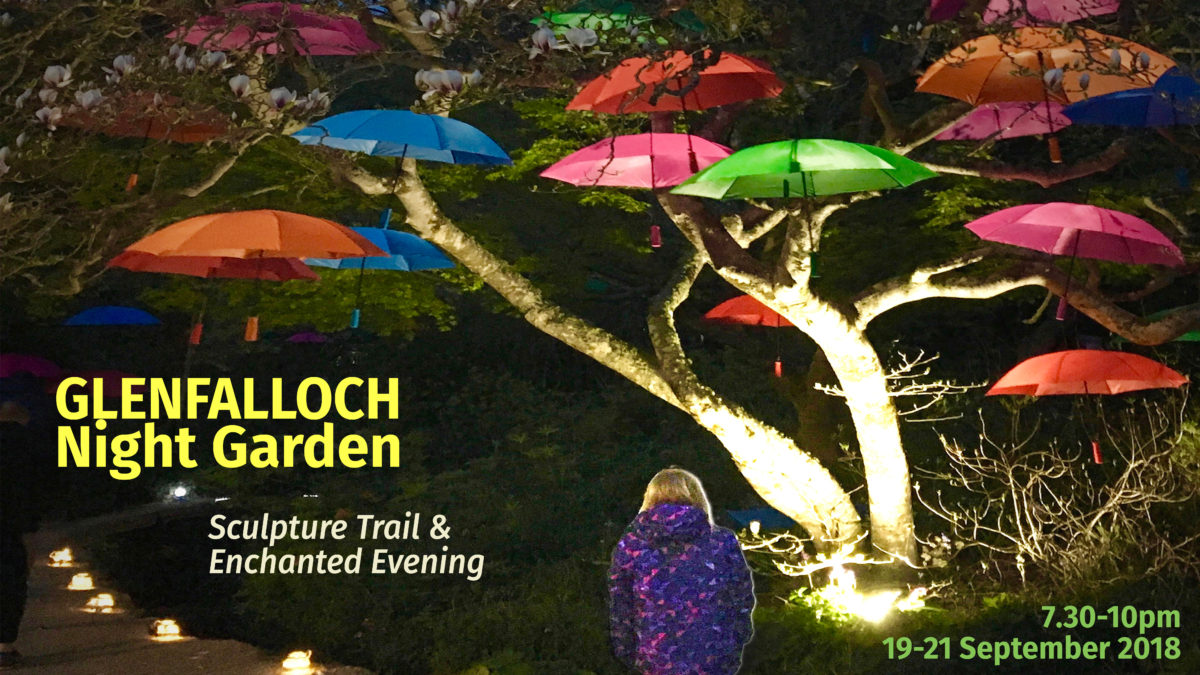 Enormous creatures of the night have been invading Glenfalloch Woodland Garden.
Beasts spotted amongst the flowers include a huge tuatara, a colossal cheeky fantail, a giant sized weta, a life size albatross and even an entire zoo.
The animals are creations of local artists and schools for next week's Glenfalloch Night Garden as the garden comes alive with illuminated installations to celebrate the start of spring.
"Everyone's invited to our magical evenings to discover the sculptures nestled within the woodland garden and explore the lush spring garden which will be lit for the evenings of 19, 20 and 21 September" says Otago Peninsula Trust CEO Robyn McDonald. "Last year's event saw thousands of people delighted with the enchanted garden and this year we've added even more light displays and entertainment – it'll be a fabulous outing for Dunedin people."
Glenfalloch has a proud tradition of supporting local artists. Local sculptors, artists and schools have selected works to appear for the event; the entire school at Macandrew Bay have made creatures to populate the garden. These will be complemented with lighting installations, live music and performances.
Robyn adds "It'll be a gorgeous event in our garden as talented sculptors and artists exhibit their works all splendidly lit. The garden is bursting into flower with magnolias, rhododendrons, daffodils and spring bulbs all showing their spring finery. There will also be wine and food available in our restaurant, which is the #1 Dunedin restaurant on Tripadvisor. Glenfalloch has certainly become a major Dunedin asset since the Trust purchased it nearly 50 years ago. We love to see locals and visitors enjoying the ambience, birdsong and exploring the garden trails; the vision of the 1967 Trustees has created an amazing place for our city to be proud of".
Glenfalloch was the first property saved by the Trust in the late 1960s and holds a special place in Dunedin's hearts.
For those inspired by viewing the works all sculpture is for sale.
ABOUT THE ARTISTS
Macandrew Bay School
'Night ZOO' An Installation by the children and teachers of Macandrew Bay School.
As part of Macandrew Bay Schools Artists in School initiative, Artist & Art Educator, Kerry Mackay worked with each class creating wonderful creatures from found and donated materials. Over 180 children each contributed a work.
Philippa Wilson
Philippa Wilson is a sculptor, art educationalist and executive manager of Flower Power ltd. She has a background in secondary school teaching, holds a DFA honours, Diploma of teaching and has studied at Post Graduate level at the University of Otago.  Her work is housed in national and international collections including the University of Otago, the Dunedin Public hospital, the Aquatic Centre Queenstown, the James Wallace art collection, the Aigantighe Art Gallery, the Whanganui Polytechnic, the Otago school of Fine Art. She has worked collaboratively with, the late Hon. Dr. of Literature Poet  Hone Tuwhare, Keneti Muaiava (lecturer of Dance University of Auckland) Tessa Peterson (senior lecturer in violin& concert master of  the Dunedin Symphony Orchestra.
Suzanne Emslie
Emslie's work is forever evolving as much as she is evolving as a person and as an artist……" I think I've experienced a huge growth in both carving in stone and building in clay – helping me find a balance and style with form".  Her work exhibited for the night garden is limestone and she uses a little exaggeration and sense of fun in the work that mostly centres round the female form – playing with the form, balance body language………….Women are gorgeous, aesthetically and sensually.  They are beautiful, particularly with a few bumps and curves.
Bryn Jones
Reminiscent of colonial figurative monuments, Bryn Jones' work is incredibly life-like, in both scale and in rich detail. His sculptures have a sense of the figure caught in time and resting, as if reflecting on the past and at the same time pensive about the future. Jones is an artist whose work can be found in public and private collections throughout New Zealand, his most notable public sculptures include the bronze of Sir Edmund Hillary at Mt. Cook, the bronze of Pelorus Jack at French Pass, the Sea Lion at St Clair and the bronze Cedar cone at the Dunedin Botanic Gardens. He studied at Otago Polytechnic School of Art, where he received an Honours Degree in Fine Art, and he has been practising as an artist since 1990. Jones is also Head of Department, Visual Arts at John McGlashan College.
Juliet Novena Sorrell
Juliet Novena Sorrell lives in Dunedin and has a studio practice as a visual artist working within the disciplines of drawing and sculpture. She also incorporates her work into performance and community art projects and is a secondary and tertiary art educator. Juliet's work has been collected and exhibited extensively throughout New Zealand. Juliet combines a range of materials including metal, ceramic, perspex, fabric and charcoal drawing to create her sculptures.  Her work uses motifs of figures, birds, cages and plant or animal forms to create intriguing and unique sculptural works.
Elizabeth Jenkins
Jenkins is a Dunedin artist and gardener whose love of flowers features in her paintings, her work as a wedding florist and also features in the food that she cooks.  The garden is close to her heart, being a volunteer member of Glenfalloch Garden's 'Friends of the Garden' group.
Jacqui Gibbs Chamberlain
Jacqui is an artist of figurative subjects with life and energy and she lives and paints at Port Levy, Banks Peninsula. While Jacqui's subject matter is invariably the human form, it is secondary to her exploring form, structure, movement, colour and texture. In her recent body of work, there is a translucent feel which gives the paintings a whole new interest. She has been painting and exhibiting for a long time. Jacqui is also a past winner of the annual CoCa award. As an artist Jacqui travels and immerses herself amongst many cultures, backgrounds and artistic interpretations to draw inspiration for her own works
Arati Kushwaha
Arati Kushwaha is a visual artist born in India. Arati's work explores themes of identity, gender, sexuality, femininity and selective self-induced abortion and destruction. The exhibition pieces are executed through soft construction and waxwork pieces, which represent diverse and critical ideas and raise awareness of these issues. Arati has completed a Master of Visual Arts (2018) at Dunedin School of Art and has had residencies, workshops all over India and overseas including Prague, New York City, Bangladesh and New Zealand.
Sharon Cunningham
Eaised in a rural area, Sharon is inspired by a love of animals and the land.  Several years ago she began sculpting various animals from driftwood, eventually moving toward bespoke pieces. She collects wood from beaches whenever she travels, from Kaikoura to Southland, taking just what she can carry. ''Certain pieces will speak to me … I see a hip and a leg or tail and facial feature. Different pieces I know will suit different things.''
Kerry Mackay
Kerry's handbag obsession began long before she completed her Master of Fine Arts at Otago Polytech School of Art, which allowed exploration of a necessary but often ignored little everyday object and transformed it as an art object. Kerry has worked as a primary school teacher, art advisor to Otago and Southland, and lecturer in art education for initial teacher education programmes at Otago University's College of Education. In each of these educational settings Kerry has had input to curriculum development in visual art at a regional and national level. As an artist Kerry is currently working on 'homemade taxidermy' continuing her obsession with 're-skinning' domestic objects with found textiles.
Steve Milne
Milne taught himself to weld and went on to create various sculpture from a stags head to a Bumble Bee.  He creates 'one off pieces and uses a variety of metal items.
Wakatipu High NCEA Technology students
Year 9 Hard material students create more amazing UV sculpture.  Earlier in the year under the guidance of teacher Rebecca Lund, the students exhibited their NCEA Technology work in Queenstown's 2018 LUMA event For Glenfalloch they have created native birds and our iconic peacocks.
Portobello School
Pupils at Portobello School have created some very special artworks for the Night Garden – to surprise us!
Alan Funnell, Glenda Bruce, Jo Severinson
Members of the Glenfalloch team have created artworks inspired by their work and love of the gardens and Otago Peninsula.
Details:
Nights of Wednesday 19th, Thursday 20th & Friday 21st September, 2017
7.30pm till 10.00pm
Entry by donation.
Restaurant open for refreshments 03 4761006
Visitor tips:
Parking – limited parking at Glenfalloch carpark – Free shuttles available from Macandrew Bay.
Bring coins – Gold coin donation, other purchases available.
Make sure you book if you want to dine before dusk in Glenfalloch Restaurant – Dunedin's #1 Restaurant. Famous Trust the Chef menu. 03 476 1006 restaurants@glenfalloch.org.nz
Bring cash for purchases – Menu BBQ – Pulled Pork Sliders $8, Fries $5, hot chocolate/cona coffee $3 and mulled wine $6. Light halos and sabres $5 ea
Most sculptures and art works are for sale
More information https://glenfalloch.co.nz/glenfalloch-night-garden/